---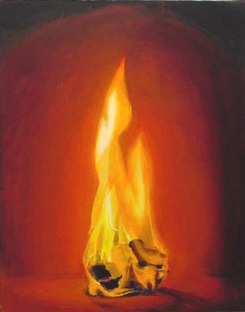 Hope is the fire that burns within, when all is dark around. A strong hope gives you courage and power to enjoy life.

Are you discouraged? Are you doubtful of yourself, or what the future holds for you? Does the ember of hope seem to be burning low? Here is how to set your hope ablaze!

Firstly, put 100% of your hope in the God of heaven. The Bible says, "I know the plans I have for you, declares the LORD, plans of good and not of evil, plans for a future and a hope." Jeremiah. 29:11 Yes, God plans good toward you. Hope in Him. Nothing on this earth, not money, not your job, nor your ability, not even human relationships are able to supply you with real burning hope. God does miracles for people and He does miracles in people! You should be one of them! Hope in Him.

Secondly, desire to know God with all your heart, and you will see your hope grow. You can begin to know God by reading the Bible every day. The Bible tells stories of how God has faithfully rescued others like you throughout history. Remembering what God has done for others builds our hope. The Bible also gives promises from Almighty God. Promises like this one, "And you shall again obey the voice of the LORD and keep all his commandments that I command you today. The LORD your God will make you abundantly prosperous in all the work of your hand, in the fruit of your womb and in the fruit of your cattle and in the fruit of your ground. For the LORD will again take delight in prospering you, as he took delight in your fathers." Deuteronomy 30:8.

Your hope will grow as you begin to talk to God as a person would talk to a friend. Tell him your worries. In fact, surrender your worries and fears to him. Trust in him entirely. Here is a prayerfrom the prophet Isaiah, "Behold, God is my salvation; I will trust, and will not be afraid; for the LORD GOD is my strength and my song, and he has become my salvation."
​Isaiah 12:2.

Thirdly, if you want your hope to burn brightly, you must believe that God has given you victory over death already. . . if you will believe. What? Yes, death, hell, and damnation have all been conquered and need have no future power over you. What does that mean? You see we all know there will be a final judgment. But God says, "For there is no condemnation for those who are in Christ Jesus." Romans 8:1. Read that sentence again. Now consider this verse, "For the wages of sin is death, but the free gift of God is eternal life in Christ Jesus our Lord." Romans 6:23.

Did you see the key of hope? Being IN Christ Jesus is the key to making it through the judgment.

Yes, there is hope. Magnificent hope of eternal life. It all comes about in Christ Jesus. Why? Because that was God's sovereign design. Notice these famous words of Jesus Himself in the Holy Bible.

For God so loved the world that He gave His only begotten Son, that whoever believes in Him should not perish but have everlasting life. "For God did not send His Son into the world to condemn the world, but that the world through Him might be saved. John 3:16-17.

So your hope is real! It is a living hope, a living person – the Messiah, who is actually seated next to God in heaven. Consider these hopeful words from the New Testament:

"What then shall we say to these things? If God is for us, who can be against us?
He who did not spare his own Son but gave him up for us all, how will he not also with him graciously give us all things? Who shall bring any charge against God's elect? It is God who justifies. Who is to condemn? Christ Jesus is the one who died--more than that, who was raised--who is at the right hand of God, who indeed is interceding for us. Who shall separate us from the love of Christ? Shall tribulation, or distress, or persecution, or famine, or nakedness, or danger, or sword? As it is written, "For your sake we are being killed all the day long; we are regarded as sheep to be slaughtered." No, in all these things we are more than conquerors through him who loved us. For I am sure that neither death nor life, nor angels nor rulers, nor things present nor things to come, nor powers, nor height nor depth, nor anything else in all creation, will be able to separate us from the love of God in Christ Jesus our Lord." Romans 8:31-39.

Oh friend can you see that you have much to hope in? Don't be discouraged! Don't doubt the future. Trust in God and the Savior of heaven. Remember the three steps above and you will see your hope flourish. 1) Put your hope in God. 2) Make effort through daily Bible reading and conversational prayer to know God as a friend. 3) Hope, because Jesus came, died, rose to life, and is now seated at the right hand of God.

"Blessed be the God and Father of our Lord Jesus Christ! According to his great mercy, he has caused us to be born again to a living hope through the resurrection of Jesus Christ from the dead." 1Peter 1:3.

Do you want hope? Do you want peace in your life? Do you want peace with God? Here is your answer:

"Therefore, since we have been justified through faith, we have peace with God through our Lord Jesus Christ, through whom we have gained access by faith into this grace in which we now stand. Therefore we rejoice in the hope of the glory of God." Romans 5:1-2.